Security Solutions
Security Solutions
Secure your peace of mind with GBG's security solutions. Our cutting-edge technology keeps your business and customers safe. Trust us to protect what matters most.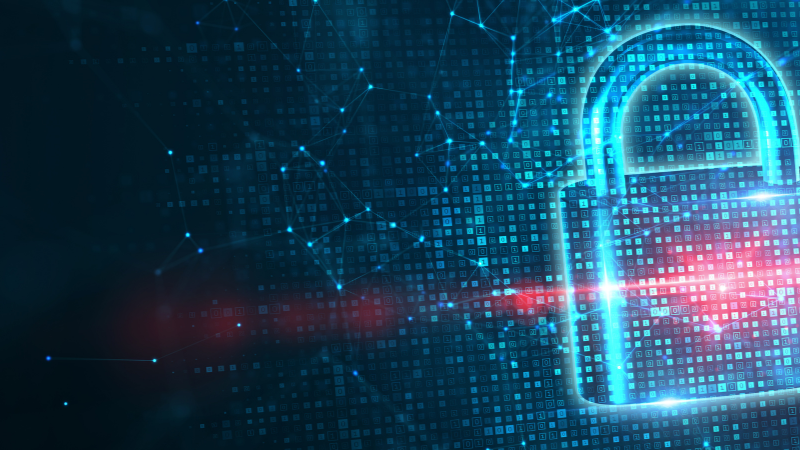 Global Brands Group provides security solutions to help businesses protect themselves from cyber attacks. In a time when security threats are growing more prevalent, businesses must stay ahead of the curve and invest in comprehensive security measures.
The threat of security attacks is at an all-time high, with incidents increasing by 31% from 2020 to 2021. Cybercriminals are targeting businesses of all sizes, and their attacks are becoming more sophisticated. These threats include malware, ransomware, DDoS attacks, and data breaches, which take an average of 287 days to identify and contain.
The costs associated with these security breaches can be astronomical, with an average cost of $200,000 per attack and an overall cost of $4.24 million for data breaches in 2021.
Safeguarding Your Business and Peace of Mind with GBG's Premier Comprehensive Security Solutions
Global Brands Group provides security solutions that safeguard businesses from the costly consequences of security breaches. Through our advanced security measures, companies can ensure the safety of their customers' sensitive data and reduce the risk of financial loss. Moreover, businesses can earn greater customer trust by demonstrating their commitment to information security.
Below are the key benefits of our security services that guarantee the safety of your property, people, and reputation:
Advanced Data Protection:
Our security solutions employ the latest technology and best practices to safeguard businesses' valuable data, keeping it safe from malicious attacks and breaches.

Reduced Financial Risk:
By implementing GBG's security solutions, businesses can avoid costly financial losses resulting from cyber attacks, hacking, or fraud.

Improved Customer Trust:
As more and more consumers become aware of the risks associated with online data security, companies that prioritize their customers' privacy and security are likely to enjoy higher levels of trust and loyalty.

Compliance with Regulatory Requirements:
Our security solutions help businesses comply with regulatory requirements and maintain adherence to data protection standards such as GDPR and PCI-DSS.

Scalable Solutions for All Businesses:
GBG's security solutions are designed to cater to businesses of all sizes, allowing them to scale up or down as their security needs change over time.

Enhanced Business Resilience:
By investing in security solutions, businesses can prepare themselves for potential disruptions, recover from security incidents quickly, and ensure that their operations are not disrupted.

Competitive Edge:
Companies that demonstrate a strong commitment to security and privacy are more likely to stand out from their competitors, gaining a valuable competitive edge in the marketplace.

In addition to our proven track record of providing high-quality security solutions, GBG is committed to staying ahead of the latest security threats. We continually update our technology and strategies to stay ahead of evolving security threats.
We also prioritize customer service and offer tailored solutions to fit each client's specific needs. By choosing GBG's security solutions, businesses can trust that their security needs are in capable hands.
The Dark Web's Shadow: Tracking the World's Security Threats in Real-Time
As a provider of online security services, we understand how important it is to keep track of the latest security threats and attacks. That's why we're always staying up-to-date with the latest developments, and constantly monitoring the ever-changing landscape of cybersecurity.
One of the tools we use to help us keep our finger on the pulse of global security threats is the security attack live map. This innovative map tracks and visualizes real-time security incidents and threats from around the world, providing an easy-to-use interface for staying informed and up-to-date.
So whether you're a business owner looking to protect your company from online threats, or simply someone who's interested in staying informed about the latest developments in cybersecurity, the security attack live map is an invaluable tool to have in your arsenal. And as a provider of top-quality security services, we're proud to be able to offer this tool to our clients and customers, helping them to stay safe and secure in an ever-more-connected world.
Check out the security attack live map here:
GBG Security Management Process
At GBG, we understand the importance of keeping your business secure and protected. That's why we follow a rigorous process to ensure the safety and security of your company.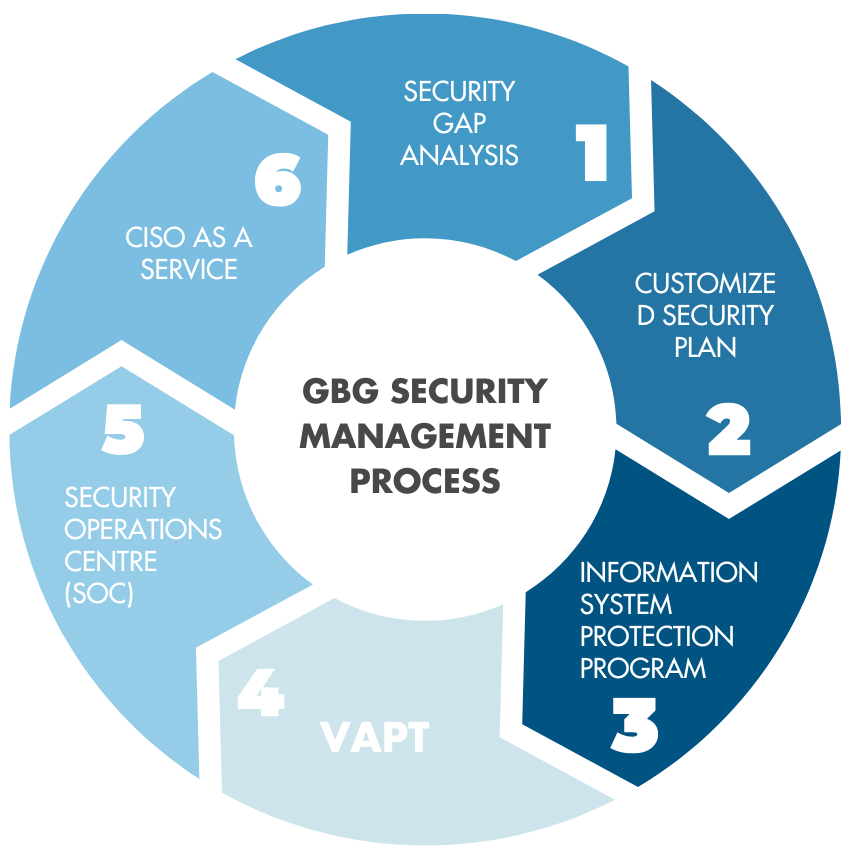 Step 1: Security Gap Analysis:
Identify any vulnerabilities, weaknesses, and misconfigurations in your current security measures. Determine the risks and create a comprehensive report outlining the gaps.

Step 2: Customized Security Plan:
Create a customized security plan that will protect your business against all threats using the information obtained from the security gap analysis.

Step 3: Information System Protection Program:
Implement a strong information system protection program, which involves using advanced technology and expertise to safeguard your systems against external and internal attacks. Ensure that your information is safe and secure at all times.

Step 4: Vulnerability Assessment and Penetration Testing (VAPT):
Perform a VAPT to identify any residual risks and potential security threats and their impact on your business.

Step 5: Security Operations Centre (SOC):
Establish a SOC consisting of security experts who constantly monitor your network, detect any potential threats, and respond accordingly to ensure continuous monitoring and improvement of your security.

Step 6: CISO as a Service:
Offer a CISO as a Service, which is an outsourced Chief Information Security Officer. Highly experienced and skilled CISOs work with you to develop and implement effective security strategies, ensuring that your company stays protected against all cyber threats.
At GBG, we are committed to providing our clients with the best possible security solutions, using a combination of expertise, technology, and ongoing support to ensure your business remains secure and successful.
Don't wait until it's too late to invest in security solutions. Contact Global Brands Group today to discuss how our security solutions can help safeguard your business from costly security threats.
As cybercrime costs are predicted to reach $10.5 trillion by 2025, investing in cybersecurity now is critical for protecting your business's future. Let GBG's experts handle your security so that you can focus on growing your business.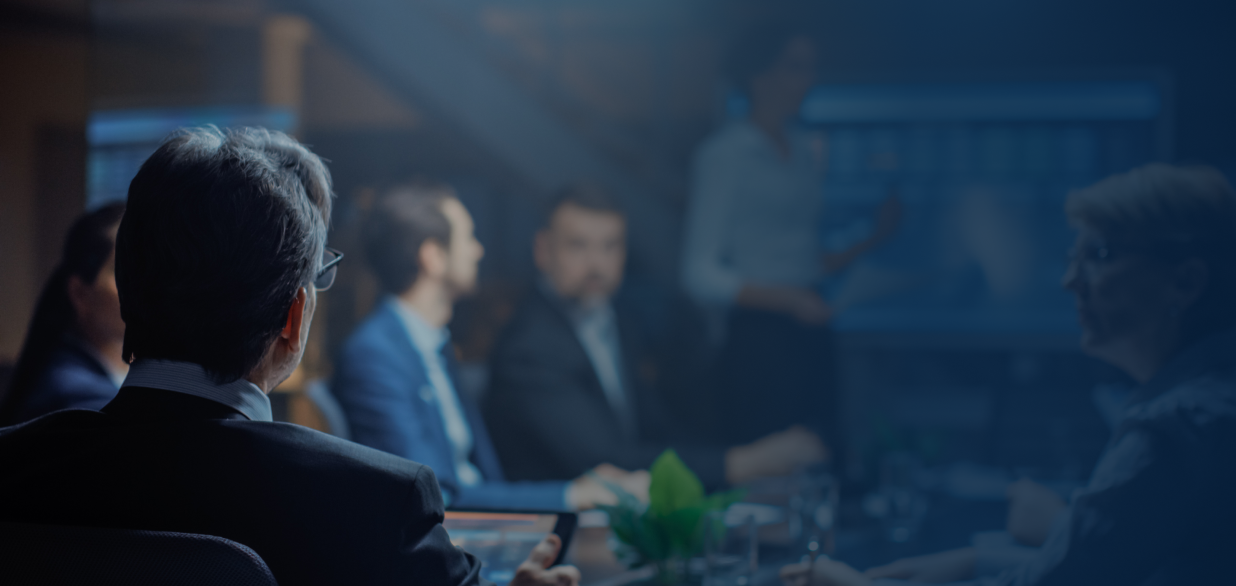 Need a bespoke IT solution for your business?
Start a complimentary and obligation-free 30-minute consultation with our business development engineers. Together, we'll design an IT solution that suits your business operations and scale.